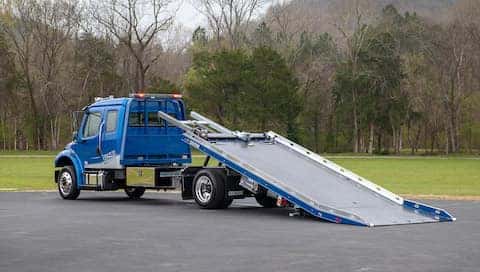 Miller Industries Century LCG 21.5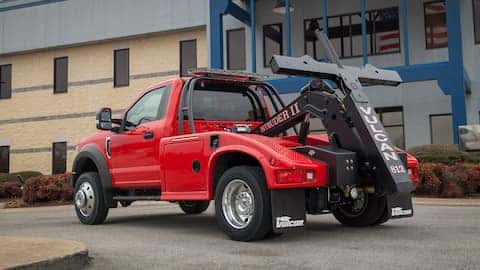 Vulcan 812
Miller Industries Century LCG 21.5 vs. Vulcan 812
---
---
Are you shopping for a new tow truck? Miller Industries, one of the USA's top truck manufacturers, offers two excellent models: Century LCG and Vulcan 812. Which is the right choice for your daily operations? Compare the Miller Industries Century LCG 21.5 vs. Vulcan 812 below to learn more about their intended uses, features, and specs. Then, explore our lineup of tow trucks at Rechtien International Trucks to find your match!
What is the Century LCG?
The Century LCG (Low Center of Gravity) 21.5 from Miller Industries is a car carrier with a patented design that lowers the deck-height 5 to 6 inches more than your average carrier. This gives the Century LCG the ability to accommodate larger and taller vehicles, including man-lifts and forklifts. It has a capacity of 12,000 pounds and is available with the following deck lengths: 20.5, 21, 21.5, and 22 feet. Learn more about the Miller Industries Century LCG features and specs below:
Features:
Aluminum or steel platform
Hollow structural side rails
Backup lights and alarm
8,000-pound hydraulic winch with 50-ft cable
Adjustable rear stabilizer
Optional rumber flooring
Optional galvanized subframe
Optional 8,000-pound planetary winch
Optional combination dock stabilizer/wheel lift
Specs:
Load Rating: 12,000 pounds
Tow Rating: 10,000 pounds
Cable: 3/8 of an inch x 50 ft
GVWR: 19,500 to 26,000 pounds
What is the Vulcan 812?
The Miller Industries Vulcan 812 is self-loading wheel-lift unit, making it the better choice for repossessions. Its newly redesigned pivot system and high lift angle allow it to tow vehicles of varying sizes without being too large for Miami roads. Not to mention, the Vulcan 812 was updated and improved based on survey data from operators. The newest model includes greater visibility between the boom and tailboard, an upgraded hose tracking system, and a variety of handheld controllers from which to choose.
Features:
60-inch C.A. steel modular body
Auto load wheel lift system
180-degree pivoting crossbar
Self-centering crossbar
8,000-pound planetary winch with 100 ft of 3/8-inch cable
Wheel lift ratchets and straps
Optional aluminum, composite, or polybody modular body
Optional steel light pylon
Optional dollies
Optional trailer hitch attachment
Specs:
Recovery Boom: 8,000 pounds
Maximum Lift Angle: 21 degrees
Planetary Winch: 8,000 pounds
Cable: 3/8 of an inch x 100 ft
Tow Rating: 7,500 pounds
Suggested GVWR: 14,500 pounds
Century LCG 21.5 vs. Vulcan 812: Which is Right for Me?
The right model for you depends on your application. Do you need a heavy-duty car carrier with the strength to haul a forklift? If so, the Century LCG is likely the better choice. Or, do you need a more compact wheel-lift tow truck with modern conveniences? Choose the Vulcan 812. No matter the model you choose, Rechtien International Trucks can help you find the configuration you need at a price that works for you.
Shop Tow Trucks for Sale at Rechtien International Trucks!
Looking for medium-duty or severe-duty trucks? Compare the MV Series vs. HV Series from International!