What's the Difference Between Tow Trucks & Semi Trucks?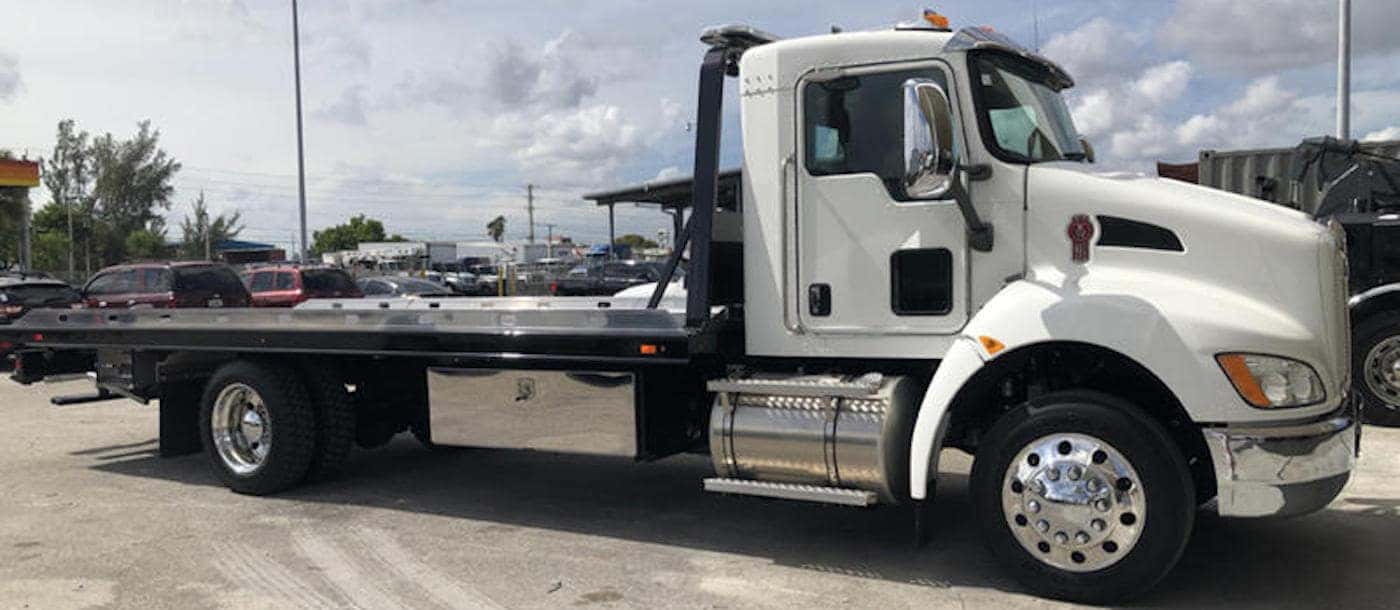 ---
---
There are many different types of trucks, with semi trucks and tow trucks being some of the most popular. You see these trucks out and about on the road constantly, and may even drive one yourself. So, what's the difference between tow trucks and semi trucks? The team at Rechtien International Trucks can answer! Below, we've broken down the different types of tow trucks, as well as the fundamentals of semis.
What is a Tow Truck?
Tow trucks go by many names, including wreckers, breakdown trucks, and recovery vehicles. When a vehicle is totaled or inoperable, these are the trucks that arrive on the scene to transport it. Tow trucks are also used to move cars that are unlawfully parked in reserved parking spaces or are being repossessed. Generally, there are four main types of tow trucks. The type used depends on the vehicle being towed. Here's a quick overview of the tow truck types and their functions:
Flatbed Tow Trucks: These tow trucks are the most common and one of the safest ways to tow vehicles. They can be used to transport cars of varying sizes, as well as boats and more.
Integrated Tow Trucks: When a bus or rig needs to be moved, this is the tow truck required for the job. They're fitted with additional axles and arms that are deeply embedded for added strength.
Hook and Chain Tow Trucks: Hook and chain tow trucks aren't feasible for a vehicle with four or all-wheel drive, because the components used to secure it can damage the drivetrain. The chain can also scratch a vehicle's paint job, so this type of truck is reserved for wrecked cars.
Wheel-Lift Tow Trucks: These types of trucks are similar to hook and chain trucks, but use metal yokes, pneumatic hoists, and/or hydraulic lifts to secure cars. This means they aren't as damaging to vehicles. Compared to flatbeds, wheel-lift tow trucks are less expensive but are regarded as less safe.
What is a Semi Truck?
Another term used interchangeably with "semi" or "semi truck" is "tractor-trailer," which is a combination of a truck and semi-trailer. Semi-trailers are trailers without a front axle. Trailers are used to transport items and don't have any power on their own; they must be towed by a powered vehicle, i.e. a tractor or truck. Semi-trailers have wheels at the back and are supported in the front by a towing vehicle and are attached via a fifth-wheel coupling. Semis come in many shapes and sizes and include:
Water trailers
Fuel trailers
Chemical liquids trailers
Bulk cement trailers
Container trailers
Store/stake semi-trailers
Cargo semi-trailers
Truck tractors
Van trailers
Lowboy trailers
Compare Tow Trucks & Semi Trucks at Rechtien International Trucks!
While there's some overlap between semi trucks and tow trucks, at the end of the day, they're used for different applications. Which is right for you? Contact us to learn more about the difference between tow trucks and semi-trucks, tow truck accessories, and more. Don't hesitate to visit us at one of our locations in South Florida!