International S13 Integrated Powertrain – The Next Step In Commercial Vehicle Technology
---
The new International® S13 Integrated Powertrain is a fully integrated system designed to allow each individual component – the S13 Engine, T14 Transmission and Dual Stage Aftertreatment, to work as one, delivering stellar performance with superior operating economy that's simple and easy-to-service.
Watch the unveiling of the International® S13 Integrated Powertrain that took place at the Las Vegas Motor Speedway. See how the S13 Integrated will Shift What's Possible for both the industry and our customers as we move forward on our path to sustainable mobility.
ADVANCED. INTEGRATED. UNDISPUTED.
A clean sheet of paper and decades of experience. That's what the engineering team started with when they began work on the International S13 Integrated Powertrain. And this wasn't any team. This was a dream team of engineers located literally all over the world. It was thanks to this spirit of partnership, this deep collaboration between companies, that we were able to shift what's possible and rethink, redesign and reinvent what an integrated powertrain can be.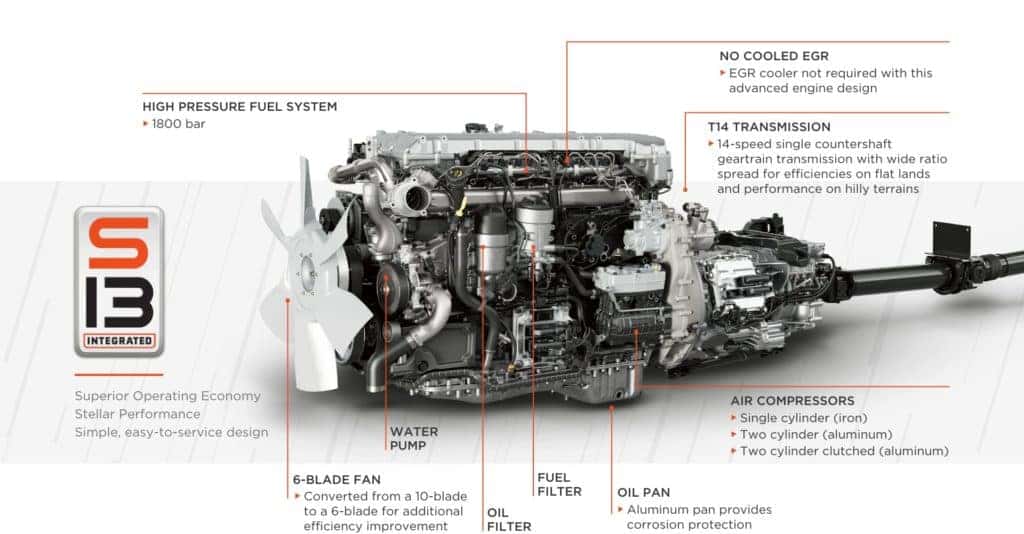 UP TO A 15% BOOST IN EFFICIENCY*
Delivering superior operating economy.
Through exhaustive simulation work, a new cylinder and piston head design with maximum cooling properties was created. This new double overhead cam design directly equates to less fuel being consumed. But that's not all. Thanks to the new Dual Stage Aftertreatment system, the heavy (40-50 lbs), expensive ($2,500 approx.) and finicky EGR cooler is no longer needed to reduce emissions. Its absence not only contributes to the S13 being the lightest 13-liter diesel engine available in North America, but it also means 100% of the exhaust flow goes through the new simple, more reliable fixed-vane turbo charger for maximum performance and efficiency.
Shift what's possible and learn more at Internationaltrucks.com/S13Integrated