East Trailer Genesis® Specs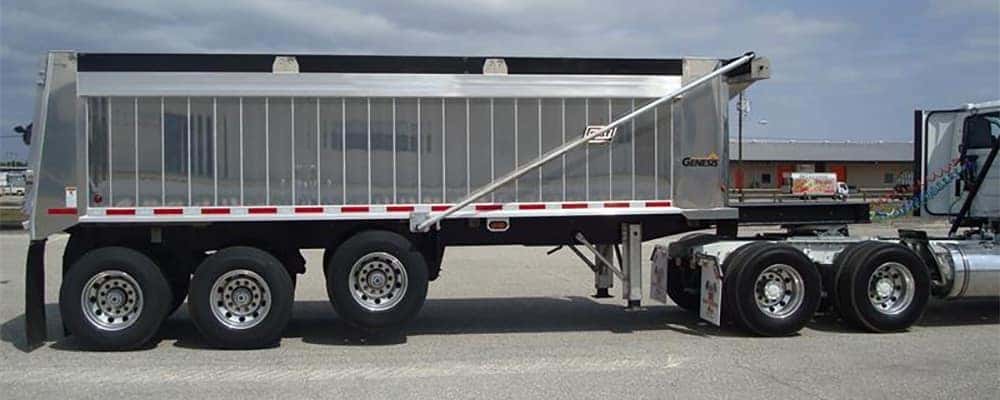 Available in a wide range of configurations, East Genesis® dump trailers are designed to maximize payload and productivity. No matter what jobs need doing, you'll benefit from the combination of longer-lasting components — combined with an East Genesis® dump trailer weight that's lighter than traditional dump trailers. Read on to explore East Genesis® dump trailer specs for all trailer types, and then browse our inventory of dump trucks and East trailers at Rechtien International Trucks.
East Genesis® Dump Trailer Types and Specs
Looking for East Genesis® dump trailer specs? The revolutionary smooth-sided East Genesis® design saves up to a half-mile per gallon of fuel, compared to conventional external post trailers.
Not only are Genesis® dun trailers more aerodynamic, but they're easier to clean and won't show dents from the inside. Outboard design elements maximize the East Genesis dump trailer weight carrying-capacity in terms of payload. Below, we'll take a look at key East Genesis® dump trailer specs for each trailer type:
Genesis® Frame Dump
Reinforced hoist well
Seamless hoist mount tubing for extra strength
Genesis® Frameless Dump Trailer
Full wrap-around bulkhead
Lightweight, long-life upper coupler
Genesis® Quarter Frame Dump Trailer
Available in aluminum or steel
Rugged and versatile East Genesis® dump trailer option
Genesis® Hybrid Dump Trailer
Greater twist-resisting structural rigidity
Hybrid square-box / half-round structure for greater payload capacity
Genesis® Aluminum Truck Body Trailer
Interlocking cab shield
Tight-fitting tailgate
Hardened ductile steel hinge shoe
Genesis® Steel Dump Trailer
Hardox® AR450 grade steel body
Baked-on, corrosion-resistant paint
Genesis® Michigan Series Dump Trailer
Premium-grade aluminum alloy floor sheeting
Custom-fitted, bow-resistant tailgate
East Genesis® Dump Trailer Innovations
These trailers are revolutionary in more ways than one, and we have the East Genesis® dump trailer specs to prove it:
Double-wall design — Protects the outer wall from dents, thereby improving resale value.
Superior dump stability — Offered because the entire integrated trailer body resists weight shifting and twisting that can lead to tipping.
Three-inch interior panel ribs spacing — This innovation keeps inside walls flatter for fewer high points, resulting in less wear over time. You can also opt for available thicker aluminum in high-wear areas.
Easy repairs — These can be inconspicuous, and do not require the removal of the top rail.
Smooth outer walls — Leave them factory-polished, or add your company name, logo, and graphics.
Boost Your Business with an East Genesis® Dump Trailer
Ready to explore the benefits of the lighter East Genesis dump trailer weight, or more specific East Genesis® dump trailer specs? The team at Rechtien International Trucks is happy to help! Contact us to speak with a technician or drop by our dealership, conveniently located in Southern Florida.